Fix Missing Teeth with Dental Implants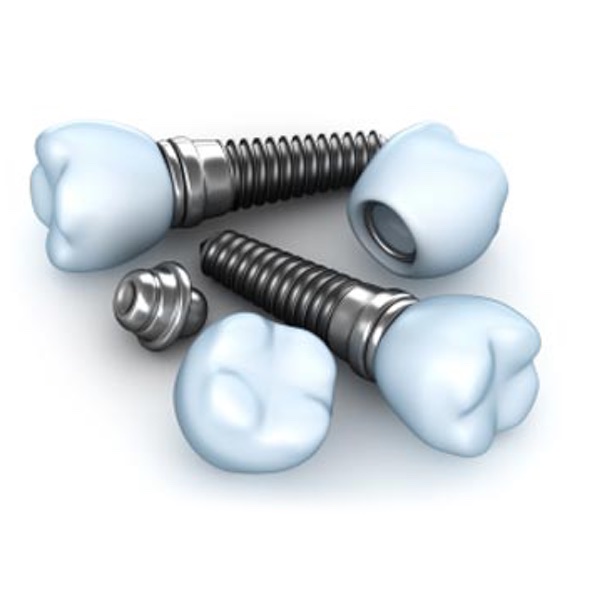 If you lose one or more teeth due to periodontal disease, or another cause, there is still hope to restore your natural smile. A dental implant offers you the chance to live your life as if you had never suffered from missing teeth.
With the help of dental implants, our team at Topanga Dental can fully remedy toothlessness which will improve your ability to chew and speak as well as restore a beautiful smile. Implants can also serve as a foundation for a fixed dental bridge or denture for replacement teeth that look, feel, and function like natural teeth.
By restoring your smile with dental implants, you will regain the ability to eat virtually anything and will smile with confidence, knowing that your teeth appear natural and facial contours will be preserved.
Request a Consultation
Benefits of Dental Implants
Missing teeth can be embarrassing for anyone and causes people to hide their smile and lose their self-esteem. The space that missing teeth create can easily become infected with bacteria, causing other teeth to shift out of place, and making it difficult for people to speak or eat correctly. The team at Topanga Dental are sensitive to the hardship a missing tooth can create. Topanga Dental provides dental implants so that our patients can regain their self-confidence, improve their health, and approach life boldly. Here are some benefits to having a dental implant:
Ability to Speak and Chew –Missing teeth and unstable dentures make it extremely difficult to eat and speak with confidence. You may be slurring your words or can't enjoy that delicious apple without being in pain. A dental implant is firmly placed and functions like a natural tooth, making it easier to eat and speak.
Built to Last –As long as you keep up an excellent oral hygiene routine, your implant can last a lifetime. Also, it's the best option for your smile since it doesn't require our dentists to reduce the size of your surrounding teeth, keeping them healthy and functional.
Modern Technology –Our experienced Implant Dentist uses the Cone Beam technology to accurately visualize and plan the placement of your implant, creating predictable results.
Virtually Painless –With our soft touch and modern technologies, you won't need to undergo full surgery to receive your artificial tooth. Minimally-invasive dental implants require less time and little to no postoperative pain.
Affordable –Because we want all of our patients to get the smile of their dreams, we're offering a free dental consultation and flexible payment plans. Don't miss out!
A secure and lasting solution.
Never be embarrassed again. You'll be smiling in no time.
Why Get a Dental Implant?
By not replacing missing teeth can lead to severe oral and overall health issues. When a tooth is no longer present, a gap is left behind. This empty space can cause dental collapse, bite issues, and conditions such as temporomandibular joint (TMJ) disorder as other teeth begin to shift out of position to fill the gap. In addition, tooth loss can also allow food and plaque to accumulate in openings of the gums which can lead to serious infection and patients may also begin to experience difficulties chewing and speaking. These complications can usually be avoided by seeking prompt tooth replacement by a trusted dental professional.
Replace One Tooth —When you have a tooth missing, a single dental implant is inserted into the bone to replace the root of that tooth. A crown is then placed on top to simulate an actual tooth. This treatment, results in the highest success rate, making it the best long-term investment for replacing a single missing tooth. Dental implants will never decay or need a root canal treatment and will feel just like the tooth that was there.
Replace Multiple Teeth —When you have multiple teeth missing, dental implants provide an ideal replacement mechanism as not every missing tooth needs an implant. Instead, dental implants can act as supports for a fixed bridge. For example, if you are missing three teeth in a row, we can place two implants, one on either side, with a crown in between that, has no implant underneath. As a result, you won't need to use any of your remaining natural teeth as bridge supports.
Replace All Teeth Permanently —Implants can support an entire arch of upper and lower replacement teeth and can be fixed into the mouth to never be removed. In cases where jawbone density and volume have deteriorated, additional implants may be needed to support a row of 10 to 12 teeth. Dental implants will protect your jawbone, won't slip, and should last a lifetime.
Support Removable Dentures —Do you have a removable denture? Implants can even make removable dentures more comfortable and healthier to wear. By using implants with a denture, the pressure of the denture is moved the bone structure rather than the bone surface. This prevents the denture from slipping while you eat and speak, and preserves the bone directly beneath them.
Who Are Good Candidates For Dental Implant Surgery?
Dental implants are widely popular, but there are a few stipulations that determine whether or not you're a candidate for them. Sometimes supplemental treatments are necessary before implantation. Factors that determine if dental implants are appropriate for you include:
Proper jawbone support
Healthy gum tissue
Sinus and nerve location
Good overall health
Receiving dental implants requires dental surgery, during which an implant post is placed directly into your jawbone. Afterward, the post is left to heal and integrate with your jawbone. Existing health conditions such as impaired immune system may slow the healing portion of your treatment.
At the time of your consultation, Dr. Saguin will perform an extensive evaluation to determine if dental implants are right for you. In some cases, preliminary procedures — such as scaling and root planing for gum disease — can be employed prior to implant surgery in order to improve candidacy and increase the likelihood of treatment success. Our team will discuss all options available in full detail, ultimately helping you decide on the most appropriate treatment plan for your tooth replacement needs and goals.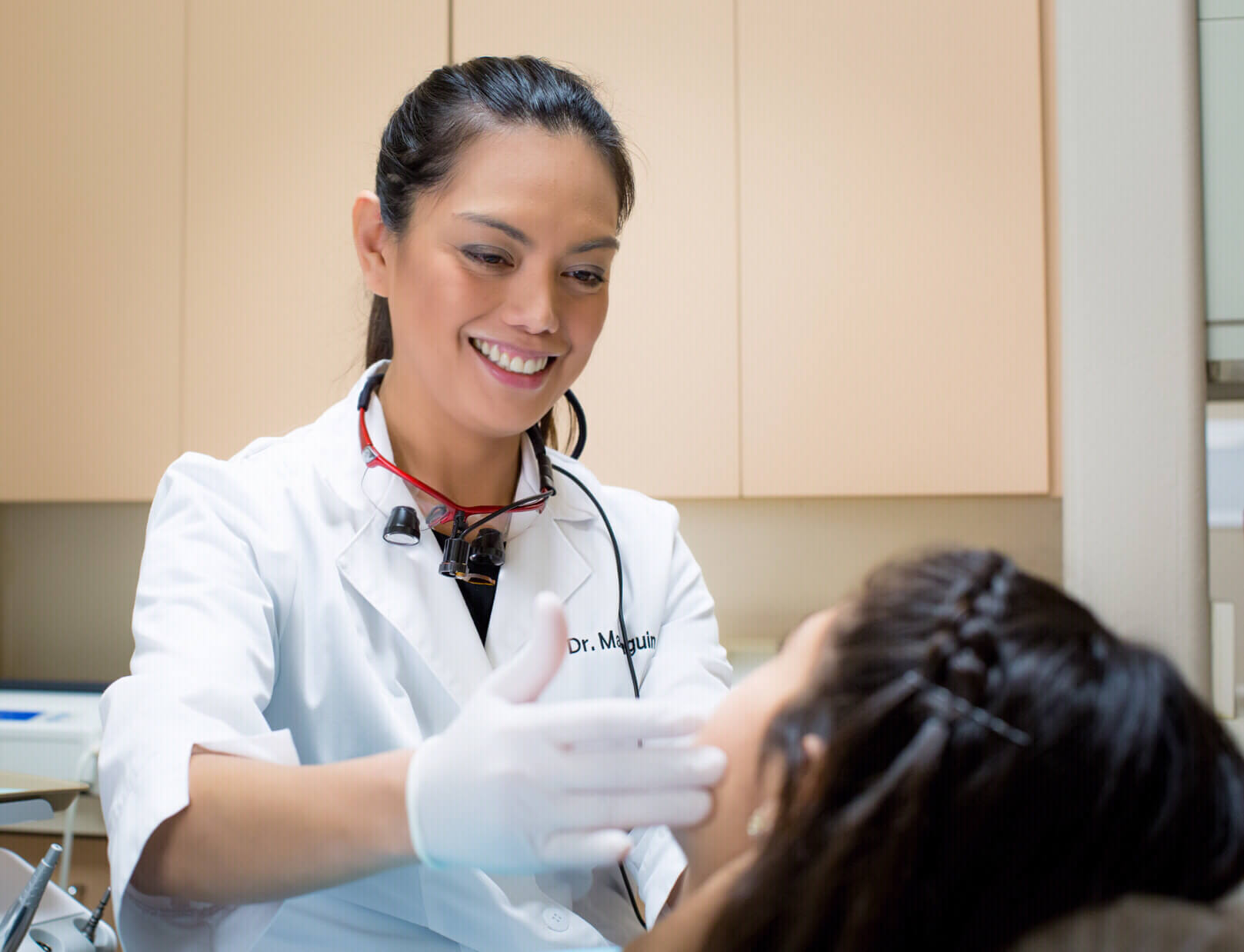 Schedule an Dental Implant consultation today with Dr. Saguin.
Dr. Saguin is fully trained in providing new dental implants including dental implant restorations in Chatsworth, CA.
Request an Appointment Today
Our Patients Love Dr. Saguin and Topanga Dental